Goa the land of beautiful beaches this place shows the Portuguese and Indian culture. This beautiful coastal state has retained its old-world Portuguese charm. Goa is the top pick for travel alone, or if you want to travel with family, with special ones, or with friends Goa tour will fulfill all the travel expectations. You can also explore other places and towns of this beautiful state with our Goa tour packages.

Top Rated Goa Tour Packages

Goa lies on the southwestern coast of India in the Konkan region. It is visited by a large number of international and domestic tourists each year for its white sandy beaches, nightlife, places of worship, and World Heritage-listed architecture.
Chronicle, Mambos, and Sinq, being the most prominent nightclubs in the state, amongst the many existing there, Goa is placed 6th in the Top 10 Nightlife Cities in the National Geographic Travel. The other major tourist attractions in Goa are the water sports, conducted on beaches like Baga and Calangute, offering jet-skiing, parasailing, banana boat rides, water scooter rides, and more….
Owing to the Portuguese rule for over 4 centuries, one gets to experience a mix of the Eastern and the Western influence of the Portuguese culture. Thus, presenting the visitors to Goa, a cultural environment that is not to be found elsewhere in India. It is often described as a fusion between Eastern and Western culture, with Portuguese culture, holding a dominant position in the state, be it in its architectural, cultural or social settings.
Once in Goa, it is difficult to experience what the state has to offer, in its entirety. So to enable you to make the best of your visit to the state, we have, on offer, a multiple set of Goa holiday packages, which are essentially theme-based making it easier for you to pick and choose the package of your choice, or a combination thereof.
Goa offers a plethora of Beaches, forts & monuments, of historical importance, Churches, Nature parks and Adventure sites to the visitors. Goa trip package lets you that which place in Goa is best for your trip. Besides a multitude of water activities and adventure sports, Goa offers various other things to do, while in Goa. Being a hotspot for tourists it is popular for various other activities over and above those mentioned above.
While in Goa one can opt for activities from shopping to diving to trekking and for leisure trips. While beaching hopping is the topmost favorite of the tourists visiting Goa cruising, clubbing, visiting the magnificent churches, mesmerizing waterfalls, ancient forts and venturing onto nearby dainty villages, too are the activities most enjoyed by the tourists.
Moreover, the best way to experience the exuberance of this state is by hiring a motorcycle and doing the rounds of the places of interest. In this way one is able to access the remotest of the places that are hidden away from the common hustle and bustle of the cities and act as the ideal recluse to a person who is on the lookout for a peaceful and adventurous trip.
While moving around on a bike, one must definitely indulge in Goan cuisine and seafood. There is nothing like Goan cuisine and no better place to enjoy it than the beaches itself. Some of the things that one should savor include Goan Fish Curry, Cafreal, Xacuti, Prawns Orly, Vada Fritters, Caldine, Goan Sausages, Vindaloo, etc. one can also indulge in the famous and delicious street food of Goa, which offer a wide variety of foods and that too at very affordable rates.
Goa also happens to be a state that has a rich spice plantation. Shopping is another activity to enjoy here to find things like shell jewelry, cane products, essential oils, spa products, beads jewelry, hats, etc.
Best tourist places to visit in Goa
Calangute Beach
The Queen of Beaches
It is the most popular hub for tourists and backpackers from all over the world, situated at a distance of 15 km from Panjim, Calangute Beach is the longest beach in North Goa, stretching from Candolim to Baga. Popularly known as the "Queen of Beaches", the Calangute Beach of Goa is among the top ten bathing beaches in the world. Being one of the busiest and most commercial beaches of Goa, it is swarming with eating joints, shacks and clubs serving cocktails, beer and seafood. The Calangute Beach is also known for its water sports activities like parasailing, water surfing, banana ride and jet-skiing. So these all activities make Goa tour package the best selling tour package among friends, college students and they visit to this small Indian state.
The Home Of Nightlife
Baga Beach
Located close to Calangute Beach, and around 30 Kms from North Panjim, Baga Beach, is also one of the most popular beaches in Goa. With the signature places such as the Britto's, Tito's and Mambos are located in the vicinity, Baga is the perfect destination to witness the dazzling nightlife of Goa, other than the variety of water sports offered.
Baga beach gets its name from the 'Baga Creek' which flows into the Arabian Sea. It is also famous for its designer stores as well as its street-side markets. While at Baga, one should not miss out on the sumptuous breakfast at Infantaria - a highly recommended eatery, and relax by the beach all day, and let the party animal in you, come alive in the evening. Baga Beach is considered to be the extension of Calangute Beach itself since both of these lie on the same stretch of the shore.
One can experience a perfect beach holiday at the Baga, as you will find that it is lined with an array of tattoo parlors, tarot shops, palmistry shops, spas, sun decks and some legendary shacks. Not a party person?, you also have the option of starting your mornings with some beach Yoga, a nutritious breakfast by the sea, and then just spending the day reading quietly on a beach recliner. There is something for every kind of traveler in Baga!
Adventure Sports at Vasco Da Gama
Named after its founder, the famous Portuguese explorer, Vasco Da Gama, in 1943, and also known by its shorter name Vasco it is the most populous and the largest city in Goa. Lying by the mouth of the Zuari River, most of the city is a cluster of old landscapes of churches and buildings built in Portuguese style architecture with a background modified by modern-day buildings. Due to the presence of many beaches connecting the town, there are several water sports and activities that you can try your hand at.
Anjuna Beach
Visit the Beautiful Rock Formation at Anjuna Beach
Situated on the west coast of Goa by the Arabian Sea and known for its unparalleled natural beauty, swaying palms and glowing soft white sands, and being literally the epitome of stunning natural beauty, and famous for its moonlit night beach parties, the Anjuna beach, in Goa is a hot spot for tourists, both domestic and foreign. Unwinding and reliving life at the Anjuna beach is one of the best things to do in Goa, the remarkable rock formation in Anjuna nestled over an inlay of white sand, jutting out into the sea, tops the list. The area was popularly known as the jewel of Anjuna or 'Ozran' and became a favourite spot among hippies who first came here in the late 1950s.
Goa has been the go-to destination for many when it comes to the thrilling adventure of water sports. The open blue skies, clear aquamarine waters, golden sand, the rhythmic fizzy waves, and the several other hundred things to do in Goa have been attracting travelers from all over the country. Much to any traveler's pleasure, Goa is a spot renowned for both- the peace and calm found on its glistening majestic beaches, and the opportunity for thrill and adventure packed in the different activities one can indulge in at the beaches with our Goa tour package.
Be Swept by the Beauty of Dona Paula
Located only seven kilometers away from Panaji, and nestled in the southern part of the headland where the Mandovi and the Zuari rivers meet the Arabian Sea, the Dona Paula beach provides a magnificent view of the Mormugao harbour. It exudes an energy that is contagious, and an aura full of romance; the Dona Paula is one of the most happening beaches in Goa. The place is always bustling with energy and is the ideal spot to relax and sunbathe, thus making its way to the head of the itinerary and among the top things to do in Goa, of every tourist.
Palolem Beach
Relax at the Palolem Beach
Located in South Goa, the Palolem beach characterized by a stretch of beautifying white sand, is one of the most fabulous beaches the Union Territory has to offer. Goa which is home to some of the coolest beaches giving out the coolest vibes, this beach stands out and is renowned for maintaining its serene atmosphere. Visiting this beach gives one a chance to spend time among the bamboo beach huts and palm trees laid over a sandy stretch of 1.5 km. Moreover, a refreshing dip into the shades of sapphire is something one can call an unimaginable and unforgettable experience, to be relished for times to come.
Parasail at the Best Beaches
Among an array of activities and things to do in Goa, Parasailing or para-ascending is an entertaining water sport with two significant instruments- parachute and speedboat, this sport is most prominent in the land of fabulous beaches, Goa. It is a sport safe to indulge in, and also it happens to be a maintained beach activity. With a medley of immeasurable adrenaline rush along with tuned beach landscapes, is a frolicking sight to a lover of adventure and fun.
Bambolim Beach
Take a View at Bambolim Beach
Located in the northern part of Goa and famous for being a virgin beach, untouched by commercialization the Bambolim Beach is a pristine beach located in Bambolim which is about 7 kilometers away from Panjim, the capital city of Goa. It is barely ever crowded. For the tourists who are constantly in search of untouched or unexplored beaches. A hot favorite among the offbeat travelers the Bambolim beach will prove to be a paradise in Goa. Its long coastline is perfect for taking a stroll or lazing in the golden sand under the balmy sun. The beautiful beach is a good picnic spot. You just have to pack your essentials and head to the beach on a beautiful clear day.
Arambol Beach
Be Awed by the Beauty at Arambol Beach
For those seeking solitude, the beautiful and serene Arambol Beach is counted among the best beaches of North Goa unexploited by tourists. Extending to over 16 Kms and comprising two distinct beaches this one is considered to be one of the most beautiful beaches in Goa, Arambol beach has a distinct Bohemian feel to it that no longer exists in any other beaches. The main beach is named as Harmal Beach, and it is one of the northernmost beaches in Goa. The second beach is accessible only by foot. Arambol Beach is a rocky cum sandy beach blessed with untouched, pristine beauty.
Vagator Beach
Revitalize at Vagator Beach
One of the most stunning beaches, where one can look forward to a revitalizing beach holiday in Goa, is the Vagator beach. The northernmost beach of Bardez Taluka, the Vagator beach is just 21 kilometers northwest of Panaji and is characterized as one of the most stunning beaches that one can find in northern Goa. Unlike other tourist spots, this beach is dirt-free and hushed, and hence a secluded paradise for beach lovers.
Betalbatim Beach
Dolphin Gazing at Betalbatim Beach
The Betalbatim Beach is one of the quieter beaches of Goa, and is located in South Goa. The highlight of this beach is the spotting of the dancing and joy play of the Dolphins over and above this beach is also a home to a plethora of fast food chains, local restaurants and spas. You can also request the local fishermen who can hitch you a ride out to the sea so that you can have a closer glimpse at the playful dolphins.
Experience the Thrills of Scuba Diving
Goa being one among the places in India that offer scuba diving it is invariably a part of the tour itinerary or on the list of things to do, of almost every tourist. It is ideal for the beginners to explore the delights of the underwater world. Apart from a large number of shipwrecks, merchant ships and World War II wrecks are the hidden treasure trove of the place waiting to be explored, one finds colourful corals, vibrant fishes, spectacular shells and other tropical aquatic beings that adorn the marine world. The absence of strong water current with occasional surges adds serenity to the activity making it perfect for the first timers as well as the professionals.
Historical And Heritage Sites to visit in Goa Tour Package
Archaeological Museum
Explore the Rich History at Archaeological Museum
This museum was once an ancient Franciscan Monastery. The Archaeological Survey of India founded the museum in 1964 but was recognized only after 1984. This Archaeological Museum has a splendid collection of artifacts belonging to prehistoric and late medieval era. One can find an array of antiques including coins, statues, ivory and wood sculptures, paintings, portraits, maps, inscriptions, stonework, ceramics, etc.
Chapora Fort
Relive your "Dil Chahta Hai" Moment at the Chapora Fort
The Chapora Fort located just 10 kilometers away from Mapusa overlooking the beautiful Chapora River and being one of the most famous forts of Goa is undeniably the ideal place to be at for nature lovers, Nirvana seekers as well as for lovers of history. Built by the Portuguese in 1617, the fort has a long and fascinating history attached to it. It is the river Chapora that gave the fort its name.
The fort is now more commonly known as the Dil Chahta Hai Fort since a scene from the blockbuster movie of the same name features the three main leads sitting in the fort and introspecting about life. People can visit this fort with his/her loved one after booking with our Goa honeymoon tour package.
Explore Fort Aguada
Built in 1612 as a protection from Dutch and Marathas, it was the most priced and crucial fort for the Portuguese and covers the entire peninsula at the southwestern tip of Bardez, and overlooking the confluence of Mandovi River and the Arabian Sea, the remarkable Fort Aguada and its Lighthouse, having braved the ravages of time, is a 17th century Portuguese Fort standing till date on Sinquerim Beach, Goa, is a perfect epitome of Portuguese architecture.
This fort fulfilled several purposes for the Portugal army. Presently the scenic beauty, verdant landscapes, mind-boggling views, and historical importance allures tourists from all over the world.
Cabo De Rama Fort
Explore the Historical Cabo De Rama Fort
Located on the beautiful coastline of Goa overlooking the gorgeous Arabian Sea, Cabo De Rama Fort is frequently associated with the legend of Ramayana. It is believed that Lord Rama, Goddess Sita, and Lord Lakshmana lived in the fort during their 14 year exile. It was built by the Hindu Rulers, however, in the 1760s; it was captured by the Portuguese and used as a military base and later as a prison. It, therefore, is also a historically significant monument in the country.
Fort Tiracol: Of Great Design and Architecture
Fort Tiracol is the most delightful fort in Goa due to its design and architecture. This 17th-century Portuguese fort is located off a cliff overlooking the Indian Ocean and has seven rooms, each named after a day in the week. The day you visit, the room bearing that name will have the best view out of others. Fascinating, right? Though the fort has now been converted into a marvelous hotel, it remains as one of the most beautiful hidden places in Goa. One can visit via a ferry from Keri beach.
• Where: Near Querim beach, Pernem Administrative Region, North Goa
• Best Time To Visit: Between November and March
• How To Reach: You can catch a Taxi from Panaji Bus Stand (about 45 km from the fort) to Keri or the hamlet of Querim, then ferry to Tiracol.
• Places To Stay: Fort Tiracol Heritage Hotel, Shail Home, Mulberry Suites; Vagator Beach Road, JUNGLE, EKO STAY- SUBLIME VILLA
Sinquerim Fort: Catch Portuguese Architecture
or a photographer out for some breathtaking shots of unexplored places, the Portuguese architecture, and breathtaking views of the sunset, Sinquerim fort is the one that fits the bill 100 %. Other than that, the beach is also a pure delight.
With soft sands and a cool breeze, Sinquerim beach serves as a superb place to relax and provides recreation opportunities like swimming, beach volleyball, scuba diving, water skiing, fishing, and windsurfing to visitors. The entire area is well kept, pristine, and houses a number of luxury accommodations and budget eateries so if you are planning to visit Goa then take our Goa Holiday Package.
• Where: Sinquerim village, Bardez sub-district, North Goa
• Best Time To Visit: Between November and March
• How To Reach: Sinquerim is about 37 kilometers from the Dabolim Airport in Goa. It takes around one hour to reach Sinquerim from Goa Airport by car.
Visit the Braganza House
Braganza House is a 450-year-old mansion with decor to complement its beauty. The grand mansion houses stunning antique handcrafted teak and rosewood furniture, draperies, and paintings placed beautifully all around. The ceilings, too, have been hand-painted which gives the house a regal appeal. A splendid library with a collection of over 5000 books is located in the west wing of the mansion and draws several visitors every day and is considered one of the top things to do in Goa which come under our Goa travel package.
Goa Chitra Museum
Revisit the Portuguese History at Goa Chitra
Established in 2010 the Goa Chitra museum exhibits the ancient Portuguese and Goan lifestyle and their traditions through a stunning collection of woodwork, metalwork, weapons, furniture, religious artifacts, etc. The museum actively conducts workshops and activities to share their knowledge about the traditions with the public. It has been titled by the Archaeological Survey of India as the topmost contemporary museum.
Historical Retreat at Fernandes House
The heritage structure, now owned by a member of the Fernandes family, initially known as Vodlem Ghor, Fernandes House is one of the oldest palaces in Goa. It was built about 500 years ago and is famous for its historic significance and stunning architecture.. There are 25 rooms in total that have influences of Hindu, as well as European architecture, with several antique artifacts on display for the tourists.
For The Nature Lovers, Trekkers, Adventurers, And The Explorer In You
Unwind at Butterfly Beach
Butterfly beach is a small beach in stature, as compared to the other beaches, located in south Goa and lying near Palolem Beach (Canacona). It is a small cove surrounded by dense trees and is a beautiful spot for nature lovers. The beach is so named because the surrounding trees attract a variety of butterflies occasionally, or maybe because the beach itself is in the shape of a butterfly.
Enclosed by a thick forest on one side and leading to the open sea on the other, the Butterfly beach has a unique and picturesque landscape, ideal for trekking and hiking. Photographers and artists will find many colourful moments to capture here.
Behold to Dudhsagar Waterfalls
For a destination that is known for, identified, and dotted by countless beaches, Dudhsagar falls are a pleasant exception. Initiating from the mighty peaks of the Western Ghats, one of the five highest waterfalls of the country and amongst the highest 100 in the world, the falls are divided into four tiers in the Mandovi river. This waterfall when looked at from a distance, appears like a heavy stream of milk flowing effortlessly with much pressure from top to down the hill, finally splitting into three streams of water, heading steadily to their ultimate destination, into the deep green sea.
Harvalem Falls: A Scenic Waterfall
Tucked away in lush jungles, Harvalem is amongst the most beautiful waterfalls in Goa with milky white water cascading down tough scenic boulders. And the best part – the waterfall remains concealed from the eyes of the world, which allows visitors complete privacy. While here, one can visit the Rudreshwar temple and the Arvalem caves nearby.
• Where: Near Sanquelim village, North Goa.
• Best Time To Visit: Between November and March
• How To Reach: The closest villages are Bicholim, which is 8 km away, and Sanquelim which is just 2 km away. Transport is available from Panaji and Mapusa to reach the falls.
Bamanbudo Waterfalls: Explore The Slice Of Peace
for those looking for peaceful and unexplored places in Goa to get away from this hippie town's maddening crowd, the Bamanbudo waterfall is a charming refreshment. Though the waterfall is easily accessible and provides a fun spot for a rejuvenating dip, tourists still tend to miss it. One should not miss an excursion to this ecstatic tourist place in Goa.
• Where: Gordongram, Canacona district, South Goa
• Best Time To Visit: Between November and March
• How To Reach: The waterfalls are easily accessible from the main road. You can drive to this cascading waterfall and experience the journey.
• Places To Stay: Mangal Farmstay Goa, The Earthen Nest, Drishti yoga international riverside, Modish 3BHK Accommodation, Turiya Villa & Spa
Secret Caves In Goa
Caves are an amazing way to explore places to visit in Goa other than beaches. Satiating the adventurous and thrill-seeking inner selves of the travelers, caves are the hidden gems in Goa sitting in the lap of the small state of India. With stories from Hindu epics being latched to them, the caves of Goa are breathtakingly beautiful. Take a look!
Arvalem Caves
From the Ancient Era Dating back to the 6th century, the Arvalem Caves or Pandava Caves have long been the center of debate on account of their mixed form of architecture. Some say the caves were used by the Pandavas, due to the presence of Shiva Lingas inside the compartments. Perhaps, this comes under the category of best places to explore in Goa. Others argue the caves are Buddhist as there's a huge statue of Buddha near the place. But whatever be the origin, the cave's rock-cut foundations, its mysterious aura, and its historic appeal never fails to charm visitors.
Where: Rudreshwar Colony, Sanquelim, North Goa
Best Time To Visit: Between November and March
How To Reach: You can use buses to ply easily. The caves are at a distance of 29 km from Panjim Kadamba Bus Stand, 46 km from Vasco Da Gama Railway station, and 9 km south of Bicholim.
Places To Stay: The Island Sanctuary – A Village Secret, HOSPITALITY INN GOA(2), Mayem Lakeview, Hotel Swarnam, Beautiful 3bhk bungalow (2 units) with Lakeview
Lamgau Caves: An Architectural Triumph
Nestled away in Bicholim, this cave is an architectural masterpiece. Though it does not get many visitors, the ones who come are always charmed by its elaborate carvings and mystical outlook. Inside the cave is a shrine that showcases some impressively designed structures like a pavilion, beams, and a ceiling. The courtyard bears a stone linga with a Tulsi Vrindavan and an image of the Nandi bull. The caverns are quite delicate, which is why one is not advised to venture inside.
• Where: Bicholim, North Goa
• Best Time To Visit: Between November and March
• How To Reach: To reach Lamgau caves, you can drive from Bicholim towards Mapusa and then Panaji. Or you can drive via Lamgau village where one needs to trek along the hill base to reach the caves.
• Places To Stay: Mayem Lakeview, Kokum House, Mercure Goa Devaaya Retreat, The Island Sanctuary Rock Pool Villa, Elegant 2BHK House near Aldona in Mapusa
Rivona Caves: With A Rich Buddhist History
Overlooking the mighty seas and bearing a unique layout, Rivona caves are among the most fascinating hidden places in Goa. Goa Travel Package allows you to visit this cave showcases a very rich Buddhist history and one of the best places to explore in Goa. The laterite rock inside is said to have served as a Buddhist monk's seat who once meditated here. Other than laterite formations, one can also find beautiful Buddhist sculptures and paintings inside the cave.
• Where: Rivona village, South Goa
• Best Time To Visit: Between November and March
• How To Reach: Take SH 7 to reach here from Goa for some 50 minutes, and continue straight to the Tilamol-Curdi stretch. You will find Rivona caves after 10 minutes.
• Places To Stay: Chrisander's Resort, FOUR SEASONS FARM, Nagesh Jungle Resort, South Goa, Casa De Xanti, Mangaal Farmstay Goa
Cave Exploration at Khandepar
Caves of Khandepar are four ancient rock-cut caves located in a jungle near Khandepar Village dating back roughly to the 12th century. They were discovered in 1970 and have two interconnected caves, while the other two are free standing. One of them is located a short distance away and the last is located opposite to the first cave. The last cave bears a pedestal that is believed to be made to hold a Shivalinga and, therefore, is considered as a meditation resort.
Cycle through Divar Island
Located at a distance of 10 kms from Panjim in Goa, Divar Island is a slice of heaven tucked away in dense woods amidst a natural environment. Connected to Old Goa only through ferry service, this island is synonymous with natural beauty, and tranquility. The region is dotted with vintage houses built in Portuguese style, littered with old-style churches, and is surrounded by evergreen paddy fields. Commonly known as the "village stuck in time"; the area is still unexplored and unexploited by tourism or commercialization due to it's disconnect from city life. You can just pick up a cycle and ride across the tiny hamlet.
Tour the Savoi Plantation
Savoi Plantation is a 100-acre organic farm established by Mr. Shetye. The beautifully maintained farm has been open to the public since 1985. A number of fruits, vegetables and spices are grown with immense love and care. A guided and informative tour of the plantation is given to every guest. Exploring the attraction is one of the best ways to come close to nature and take away a tip or two for one's own little garden.
Buy Spices at Tropical Spice Plantation
Tropical Spice Plantation is one of the famous spice plantations in the state. This is another one of the amazing things to do in Goa where you can take a guided tour of the property. The tour consists of a traditional welcome with a delicious drink, and informative site tour, and a delicious organic lunch made of fresh farm produce. The guides are friendly and promptly share tips as they explain the ecosystem. One can purchase local spices too to end their fabulous trip with.
Top 5 Pilgrimage Places to visit in Goa tour package
Basilica Of Bom Jesus
At a distance of 9 km from Panjim Kadamba Bus Stand and 27 km from Vasco Da Gama Railway Station, the famous Bom Jesus Basilica is part of the UNESCO World Heritage Site (Churches & Convents of Goa) and one of the major heritage sites in Goa. It is also called St. Francis Xavier's Tomb. It is one of the top attractions and a must include in Goa packages.
The Basilica of Bom Jesus is dedicated to St. Francis Xavier. Constructed over a period of 11 years, from 1594 to 1605, the church is called 'Bom Jesus' meaning 'good Jesus' or 'infant Jesus'. This church is the first Minor Basilica in India and is regarded as one of the best examples of baroque architecture. There are paintings of events from the life of St. Francis Xavier.
The Basilica of Bom Jesus enshrines the sacred remains of Goa's patron saint Francis Xavier, who died on a sea voyage to China in 1552. Legend says that when the body of Xavier was transferred to Goa the following year, the body was found as fresh as the day it was buried. The embalmed body of the saint lies in an airtight glass coffin which is placed in a silver casket.
It is believed that the saint has miraculous powers of healing. Once every 10 years, the body is allowed to be viewed by the people who visit this holy place. The last time it was in 2014 and the next would be in 2024.
The House of the Jesuits is next door to the basilica and is the place where the Jesuit missions to the east began. The museum on the first floor has paintings on the life of Saint Francis that can be visited with a nominal entry fee.
The Feast of St Francis Xavier, held annually on 3rd December and preceded by a nine-day devotional novena, witnesses a heavy crowd of devotees who come here to partake in this event.
Following places too can be visited from here:
• Se Cathedral (230 mts)
• Church of St. Francis of Assisi (240 mts)
• Museum of Christian Art (0.8kms), Viceroy's Arch (0.6 kms)
• Church of St. John of God (0.8 kms)
• Church of Our Lady of Rosary (1 km)
• St. Augustine Tower (1 km), San Pedro Church (1.9 kms)
• Our Lady of Help Church (2 km), Church of St Cajetan (700 mts)
• Chapel of St. Francis Xavier (1.4 kms)
• Church of Our Lady of the Mount (1.9 kms)
• Church of the Cross of Miracles (1.2 kms
Timings: Mon-Sat 9 am - 6:30 pm, Sun 10 am - 6:30
Shri Mangueshi Temple / Mangeshi Temple
Located at a distance of 21 km from Panjim Kadamba Bus Stand, 37 km from Vasco Da Gama Railway Station, and 34 km from Mapusa, Shri Mangueshi Temple is situated in North Goa. It is one of the must-visit tourist places and a major pilgrimage site in Goa.
Shri Mangeshi temple is located on a hillock at Mangeshi Village in Priol, Ponda Taluka. Shri Mangeshi Temple is one of the largest, wealthiest, and most popular Hindu shrines in Goa. Mythology says that Lord Shiva came to Goa after having lost everything in a game of dice against his wife Parvati. When Parvati came looking for him, he disguised himself as a tiger and frightened her.
In a state of shock, Parvati uttered the words ''Trahi Mam Grisha'', which means ''O Lord of the Mountains, save me''. Shiva then reverted into his normal form and returned with her. The words, ''Mam Grisha'' came to be associated with this story and Shiva came to be known as 'Manguesh'. The place where this tale occurred was marked by building a temple at the site. This location is to the south of the Zuari River where the present-day village of Cortalim stands.
When Salcete was captured by the Portuguese in 1543, the devotees shifted the deity from Cortalim to a nearby village that came to be known as Mangeshi. The temple which is believed to be built around 1744 has been rebuilt and has undergone several renovations
In the temple of Mangesh is a prominent Nandi Bull which is considered to be the Vahana (Vehicle) of Shiva. The temple complex consists of a spacious courtyard surrounded by the temple itself and rooms for weddings and pilgrims. The temple also has a magnificent water tank, which is believed to be the oldest part of the temple. The ''Deepastambha'' is an eye-catching structure, it is a seven-story octagonal lamp tower.
Considered as the tallest and most imposing column in Goa, it looks picturesque when illuminated at night with traditional oil lamps during festival nights. The tower is crowned with a small dome. The sanctum houses a Shiva Lingam. A golden Shesha, the Linga and an image of Shiva constitute the main altar. It has shrines of Parvati and Ganesha
Magha Pournima is the main annual festival which is held in February. The main event during the annual festival is the Ratha Yatra or the pulling of the chariots. This annual festival attracts thousands of people to the temple. The deity is given a special deck up and is taken around the streets on a chariot pulled by devotees.
Following places are nearby and usually visited together:
• Shri Mahalasa Devasthan, Mardol (1.8 kms)
• Laxminarayan Temple, Priol (3 kms)
• Shri Lakshminarasimha Temple
• Veling (2.8 kms)
• Shri Mahalaxmi Temple - Bandora (7.6 Kms)
Timings: 6 AM - 10 PM.
Se Cathedral
At a distance of 9 km from Panjim Kadamba Bus Stand, 27 km from Vasco Da Gama Railway Station and 23 km from Mapusa, Se Cathedral is considered to be one of the largest churches in Asia, situated in Old Goa, opposite to Basilica of Bom Jesus. The beautiful Se Cathedral is one of the top places to visit in Goa. This place is part of the UNESCO World Heritage Site (Churches & Convents of Goa)
The Se Cathedral is dedicated to St. Catherine. It is also known to be the oldest and the most celebrated religious buildings in Goa and has the prestige of being the seat of the Archdiocese of Goa. According to history, Alfonso Albuquerque in 1510 defeated the Muslim army on the feast day of St. Catherine of Alexandria and took possession of Goa.
The construction of this imposing church began in 1562 during the reign of King Dom Sebastiao and substantially completed by 1619. The main altars however were not finished until the year 1652. It was consecrated in 1640. This 16th century monument took 80 long years to complete. It is also called St. Catherine's Cathedral.
The main attractions of the Cathedral are the 15 altars, which are dedicated to Our Lady of Three Needs, Our Lady of Anguish or Our Lady of Hope. The grand altar is highly ornate and is dedicated to St. Catherine of Alexandria. It has the carvings depicting the major events of the life of St. Catherine. Close to the main altar is placed the throne of Archbishop of Goa.
On the right in the order of placing are the Chapels of St. Anthony, St. Bernard, the Miraculous Cross and The Holy Ghost. It is said that a vision of Christ had emerged on the Miraculous cross in 1919 and that the cross is growing in size. On the left side are the chapels dedicated to Nossa Senhora de Necessidades, St. Sebastian, the Blessed Sacrament and the last to Nossa Senhora de Boa Vida.
The bell in the existing tower is often referred to as the Golden Bell. The bell is known for its melody and rich tone and is the largest bell in Goa and one of the best in the world. The tower on the Southern side collapsed in 1776 and it was never built.
The adjoining convent has been turned into an Archeological Museum and is open to the public. The Franciscan church lies to the west of the cathedral.
Following places are close to Se Cathedral and can be visited together:
• St. Agustin Tower (850 mts)
• Museum Of Christian Art (700 mts)
• Church of Our Lady of Rosary (1 km)
• Church of St John of God (650 mts)
• San Pedro Church (1.8 kms)
• Our Lady of Help Church (1.9 kms) Church of St Francis of Assisi (90 mts)
• Church of St Cajetan (450 mts)
• Church of our Lady of Mount (1.7 kms)
• Chapel of St. Francis Xavier (1.1 kms) You could walk or trek upto these places
Timings: 7:30 AM - 6 PM on all days.
Shri Shantadurga Temple - Kavlem
At a distance of 28 km from Panjim Kadamba Bus Stand, 34 km from Vasco Da Gama Railway Station and 20 km from Margao Railway Station, Shri Shantadurga Temple is situated in North Goa.
Shri Shantadurga Temple is a large temple located at the foothill of Kavlem village in Ponda Taluka. This temple is considered as one of the most important and the biggest temple in Goa. This temple is dedicated to Goddess Shantadurga the Goddess of Peace. The deity is also called 'Santeri' informally. According to the legend, a fierce battle was made between Shiva and Vishnu that Lord Brahma prayed to Parvati to intervene, which she did in the form of Shantadurga.
Shantadurga placed Vishnu on her right hand and Shiva on her left hand and settled the fight. The deity of Shantadurga is shown as holding two serpents one in each hand representing Vishnu and Shiva. This avatar of Shree Jagdamba Devi which had come to make peace between Shree Vishnu and Shri Shiva came to be known as Shree Shantadurga Devi.
The temple was initially located at Cavelossim but when it was being destroyed by the Portuguese in 1564, the deity was shifted to Kavlem. A small laterite mud shrine was built and the deity was installed here. The mud-shrine was converted into a beautiful temple whose foundation stone was laid in 1730 during the reign of Maratha ruler Shahu Raje of Satara at the request of Naro Ram Mantri, one of his ministers. The temple was completed in 1738 and renovated in 1966.
The temple is a combination of Indo-Portuguese architecture. Unlike other temples of Goa, the temple has a Pyramidical Shikara, Roman-arched windows and a flat dome encircled by balustrades. The maroon, peach and white colour paint of the temple gives the temple a serene beautiful look. Another major attraction of the temple complex is the Nayanmanohar Deepstambh.
This Deepsthamba is lighted during the festival times and the beauty of it is beyond description. On either side of the temple building are the big buildings of Agarshala. There is a big lake beyond the compound wall in front of the temple. The highlight of the temple is its golden palanquin (palkhi) in which the deity is carried on festive occasions.
The Jatra (annual festival) is held during December. The idol is taken out in a procession in a golden palanquin during the festival. Some of the important festivals that are celebrated at the temple are Lalkhi Utsav, Muktabharani Utsav, Tulsi Vivah and Kala Utsav.
This place is usually visited from Shri Mahalaxmi Temple - Bandora (2.3 kms).
Following places are near by and can be visited together:
• Shri Ramnathi Temple (1.2 kms)
• Shri Nageshi Temple (2 kms)
• Kapileshwari Temple (1 km)
• St. Roque Chapel, Bandoda (1.8 kms)
Timings:5:30 AM to 12:30 PM & 1:30 PM to 8:30 PM
Shri Mahalaxmi Temple - Bandora
At a distance of 27 km from Panjim Kadamba Bus Stand, 37 km from Vasco Da Gama Railway Station and 22 km from Margao Railway Station, Shri Mahalaxmi Temple is situated in North Goa. It is one of the most visited places in Goa and an important pilgrimage site for Hindus.
Shri Mahalaxmi Temple is situated in the village of Bandora or Bandivade about 4 km from Ponda. This Temple is dedicated to Lord Vishnu's consort Mahalaxmi. The temple is considered as the abode of the original Goddess of the Shakti cult and its unique feature is that the Devi wears linga on her head.
The idol of Mahalaxmi with four arms holding a sickle, a club, a dagger and a vessel containing Prasad and flowers, has a close resemblance to that of Mahalaxmi idol at Kolhapur. Besides the main black granite stone idol, there was another idol of the Devi made of panchaloha. The Sabhamandap has a gallery of 18 images, out of 24 images of emanatory aspects of Bhagavata sect., it is one of the largest galleries of wooden Images of Vishnu in India.
The Goddess Mahalaxmi was worshipped by the Shilahara rulers and the early Kadamba Kings of Goa. The temple was originally in the village of Kolambe near present day Colva beach. When the Portuguese destroyed it, devotees smuggled the murti of Mahalakshmi first to the town of Talaulim where it resided in the home of a priest. It was then moved to its present location in Bandivade in Ponda where a small temple was established in 1866. Upgrades and expansions have occurred ever since. Today it is a magnificent example of Konkani temple architecture in Goa.
Navaratri is celebrated grandly here. Other festivals celebrated are Shri Ram Navami, Shri Mahalakshmi Pratishthapana Day in Vaishakha and Maha Shivaratri Festival in the month of Magha. The main idol of the Goddess Mahalaxmi is also taken out during the festival of Mahashivratri, on a chariot carried on the shoulders of devotees.
This place is usually visited from Shri Manguesh Temple, Mangueshi (7.6 kms).
Following places are near by and usually visited together:
• Shri Nageshi Temple, Ponda (850 mts)
• St. Roque Chapel, Bandoda (1.2 kms)
• Shri Ramnathi Temple, Ponda (1.5 kms)
• Shri Shantadurga Temple, Kavalem (2.3 kms)
• Ganesh Temple Kavalem (2.4 kms)
Timings: 6 AM - 8 PM .
Fun & Frolic Things to do in Goa Tour
Be a Part of the Exciting Cruise Trips
If one really wants to experience and enjoy the pristine beauty of nature comprising of exotic beaches of pristine waters, breathtaking views of sunset and sunrise, then the only way to do it is to go out on a luring river cruise. Bound by numerous rivers, the place makes for an exclusive cruising destination. The experience over journey beats all other activities and things to do in Goa.
It gives you an opportunity to indulge yourself into the enchanting beauty of the place. Several river cruises with guaranteed fun and entertainment are carried out through the day, depending upon daytime, sunset and moonlight. You can choose your ride and take back with yourself some mesmerising memories of sunrises, sunsets, and the glowing night time sky. If lucky, you might catch some unforgettable glimpse of dancing dolphins too.
Call Shots at the Casinos
For those wanting to play and win some fortune, Goa gives you this chance as, over and above the image of golden sandy beaches, delicious food and drinks and lively casinos, comes to one's mind when thinking of Goa, one of the most pursued activities and first among the things to do in Goa, would be a visit to one of the many casinos here, which provide a once in a lifetime chance to try your luck. Being one of the very few states where gambling is legal, Goa is frequently visited by local and foreign tourists who are anxious to play their cards right and win some fortune!
River Cruise On Mandovi River
Another memorable cruise that can be undertaken is a cruise down the Mandovi River, making it an interesting way to explore the river. There are various cruise options varying between houseboats, sailboats and yachts which can be specifically chosen to watch the Sunset, for a Party/ Dinner, or a Nature Cruise.
The sailing route for Mandovi Cruises allows one to explore the Portuguese colonies and Vanxim and Divar and Chorao Islands. The cruises come with an exciting combination of the Goan lifestyle and hospitality to make it a memorable experience for the tourists.
Party at the Tito's in Calangute
Tito's is a brand name when it comes to clubbing in Goa. The club is famous for its commercial and Bollywood music and a huge dance floor. There is also a private party area available with its own bars on the first floor. Make sure to check this off when ticking the best things to do in Goa.
Shake a Leg at Club Cubana, Calangute
Being an up market club, with the coolest DJs playing the coolest music of all times, Club Cubana is an amazing place to visit with your friends for having the most memorable night of your life. It is considered as the best spot to enjoy the nightlife in Goa. If you are a great fan of trance, this place is for you. Goa is for music fanatics and most of them will find their homes at Club Cubana.
Silent Parties at Silent Noise
Goa is synonymous with clubbing and nightlife. Among the several clubs and other party places and things to do in Goa, we bring to you a unique opportunity. True to its name the Silent Noise is a one-of-a-kind party club situated in Canacona in Goa. You are provided with wireless headsets that you can wear and switch to your own taste of music ranging between a number of DJs and soundtracks.
Full Moon Night Parties at Colva Beach
If one wishes to experience the true vibrant spirit of life, one must include a visit to one of the most happening beaches in South Goa, the Colva beach. It is renowned for its shopping and phenomenal nightlife. The beach is full of shacks and eating joints. The beach area also suggests the luxurious lifestyle of the elite class who own striking houses or villas that speak the village. With the nonchalant ambiance, mesmerizing view of the endless beach and spirited people, Colva Beach is perfect to feel life in its true sense.
Raging Parties and Peppy Clubs
While Goa being known for its sandy beaches, cruises, vibrant and ultimate raging parties, casinos and also besides the hundreds of things to do in Goa, but the absolutely essential one is a must-visit to Goa's clubbing and overnight parties. Out of the very many party places in Goa, most are based on the beach itself. These shacks have overnight parties with free-flowing alcohol, blaring music with a variety of genres and the like.
Go all out at the Flea Markets
There are several famous flea markets such as Wednesday afternoon Anjuna market and Saturday night market which are great for shopping. You can buy things ranging from special tea to Kashmiri carpets.
Shop Your Heart Out
For the shopaholics shopping in the hippie beach town is among the top things to do in Goa. It has such funky and beachy stuff which will surely be a threat to your pockets. You will want everything to be onto your shelters in your house. Despite there being a number of malls in Goa, the best shopping is done from the stalls near the beaches. From hippie clothing to junk jewelery, from best of drinks to the famous wines, from bamboo to terracotta and brassware work, the markets will serve you with everything you want.
Treat Yourself at Spas and Massages
In addition to several other activities and exciting things to do in Goa, treating oneself to a spa or a massage is always on the top. Goa is full of spa resorts and Ayurvedic massage centers. Beachside massages are also available at some beaches. Various spas of Goa which are preferred by the tourists from all around the world are Sereno Spa and Leela Kempinski Goa Spa Center.
Sightseeing
For the spiritually inclined (this portion is for the spiritually inclined and thus the detail has been taken care of for the ones who may be interested)
Goa tour for the Foodies
A GUIDE TO THE MOST DELICIOUS STREET FOOD IN GOA
In the state of Goa, in cities such as Panjim, Mapusa, Miramar and Margao, you can find many street food carts serving delicious snacks from the early morning up until late in the evening you can eat delicious food when you are in your Goa tour package also you can taste Goa's traditional and enjoy your trip
From local delights to traditional Indian snacks and even Lebanese and Italian food, you will find it all at carts and small eateries in Goa.
While it's good to try all the varieties of street food in Goa, there are some that you just cannot miss out on.
Best Street Food In Goa
Croquettes, Chops and Samosas
In Goa, non-vegetarian delicacies are popular. If you are a meat eater, you have to try the non-vegetarian snacks served at the small local cafes. In places like Vasco, Mapusa, Panjim and Margao, you'll find a variety of chicken, mutton and beef snacks that are delicious to pick up and eat while you walk around. The most popular non-vegetarian snacks in Goa are croquettes, potato chops and samosas.
Where to Eat: Cafe S F Xavier in Mapusa and Longuinhos in Margao
Chorizo Pav
Choris (Goan Sausages) is a famous delicacy in Goa. Locals enjoy it as a breakfast item or even as a tea-time snack. Eaten with bread, this spicy pork meat preparation is made using a pre-cooked sausage, onions and sometimes potatoes.
In Goa, especially on the main highway, you will find plenty of men and women on cycles serving choris pav as early as 7 am in the morning.
Where to Eat: All over the city
Gadbad Ice Cream
Goa's famous Gadbad Ice Cream is served in a tall glass or bowl. It is a combination of different ice creams served in one serving, topped with noodles and jelly. The perfect summer special, you will enjoy the Gadbad Ice Cream on a hot summer day, after shopping at the markets in Panjim or Mapusa.
Where to Eat: Navtara Veg Restaurant in Mapusa, Cream Centre in Panjim
Missal Pav
Spicy, delicious and nutritious, misal pav is a top choice when it comes to street food in Goa. Although, made differently here than in Maharashtra, you won't be disappointed with the taste. Missal is popularly eaten as a tea-time snack or for breakfast.
Where to Eat: Cafe Balaji, Anjuna
Poi
A bread man selling Poi in Goa
In the mornings and evenings, you will often find bread sellers on cycles with big baskets selling the local Goan bread called Poi. Made from rice husk, this type of bread is slightly sweet and fluffy. It can be eaten with curry at meals or just with butter as a snack.
You will recognize a breadman in Goa by his cycle's horn and big basket that is covered with a blue sheet.
Where to Eat: All over the city
Chinese Fast Food
Hakka Noodles is a popular street food item in Goa
If you thought Goa's street food scene was only about local delicacies, think again. Chinese is popular too. In Mapusa, Panjim and near the beaches, you will find street food carts serving hot and fresh Indian and Chinese snacks. Chinese is popular with a large chunk of tourists and even the locals enjoy it. Famous Chinese dishes in Goa are Chicken Chilli, Schezwan Fried Rice, Hakka Noodles and Manchow Soup.
Where to Eat: All over the city
Shawarma
Shawarma is also a popular street food delicacy in Goa
Shawarma is one of the few foreign delicacies to make its way onto Goa's street food scene. A far away cousin of the Khati roll, a shawarma is not as spicy. Served with hummus or tartar sauce, this roll is wrapped in pita bread and is served with pickles.
Where to Eat: Haji Ali Restaurant and Shawarma King in Panjim
Bondas
A unique quality of bondas is that it can be made in different ways – spicy, bland or sweet. Traditionally from Mysore's cuisine, bondas have made their way to Goa's street food scene. Best eaten with chutney, bondas are enjoyed as a snack or for breakfast.
Where to Eat: Michael Lobo's Stall in Candolim
Fish Thali
Every tourist must try the fish thali in Goa
Whether it is at a bar, a beach shack or small corner restaurant, fish thali is a dish that every tourist has to try in Goa. The thali comes with a portion of rice, chapatis, fish curry, a vegetable dish, fried fish and pickle. Some places also offer solid curry with the meal. A complete meal, a fish thali is delicious and satisfying if you love seafood.
Where to Eat: Any beach shack and Anand Seafood Restaurant in Anjuna
Goan Sweets
Simonia's stores is a popular bakery and sweet shop in Goa
Apart from its seafood delicacies and choris pao, Goa is well known for its sweets. A few popular Goan sweets are Bebinca, Dos, Perad and Baath Cake. In Goa, you will get the best sweets at Simonia stores. Although the one on Mapusa is the most popular, there are outlets across the state of Goa.
Where to Eat: Simonia Stores, Mapusa
Ras Omelette
Omelette Pav is very popular in Goa. What's even more popular, though, is Ras Omelette, which is a regular omelette served with some chicken curry. You can have this at Ravi Ras Omelette in Panjim, at a very reasonable price. A delicious dish, you're bound to head back for more.
If you plan to explore the street food scene in Goa, we suggest that you try the food items mentioned above. They're delicious, easy on the pocket and will leave you craving for more
Some of the prominent festivals of Goa
While most of us know and associate Goa with its sandy white beaches, nightlife, water sports, heritage and architectural sites, very few have talked of the prominent festivals of Goa. Which too is an attraction to the tourists, the world over? If in the know of these festivals one can draw one's tour itinerary to include these festivals, in one's Goa tour package for couple.
Carnival
Introduced by the Portuguese colonial rule in the 18th century, this festival is that time of the year when the legendary King Momo takes over the operations of the festivals and events. Perhaps the most famous of all festivals, the Carnival is the epitome of celebrations in Goa, being celebrated for three days and three nights and preceded by the month of Lent (February), this festival brings alive every nook and corner of Goa.
History
Though introduced by the Portuguese, the Carnival is a part of ancient Rome and Greece which later crept into the culture of Spain and Portugal. Initially, the Carnival had a touch of Portuguese style to it, but with time and India's independence, the festival began to be celebrated in full Goanese style.
Celebrations
Goa Carnival, the most fun-filled festival in Goa, is essentially a feast of food, drinks, music, dance and fun - before the 40 day period of fasting and absenteeism of meat in the month of Lent. The days are marked by colourful and musical parades which initiate in the capital Panaji and travel throughout the state making it one of the most popular festivals of Goa.
The evenings are kept for gala balls, and people engage in partying on the streets all through the night. The float parade in Panaji is led by King Momo, who floats a specially decorated float to declare the initiation of eating, drinking and partying.
Though the Carnival was on a decline in the past few years, yet the efforts of Goa Tourism Department and the state government have ensured that not only is the festival revived but also contributes to attracting tourists for the state. The Carnival just cannot be missed.
Christmas
Goa, perhaps, is the best place to celebrate Christmas. Otherwise known for its excellent beaches and legendary nightlife, Goa with its Portuguese legacy and Catholic population, Christmas is celebrated with a gripping fervour. The celebrations, decorations and the carols, everywhere form a part of an unforgettable experience and unforgettable ode to the eyes. The best part about Christmas in Goa is the cold evening breeze that gets the friends, families and communities together to celebrate the festival of goodwill and prosperity.
New Year Eve in Goa
There's no other place in the country which is livelier than Goa. Here New Year stands for Party, and Party is synonymous to Goa. The whole state is indulged in celebrations the entire night. There can be no limit for the level of crazy that this state can put during the New Year's celebration. In spite of the fact that the most famous festivals; Sunburn and Supersonic have moved out of the state, Goa does not seem to have been affected by it. The celebrations have increased exponentially and the regular party spots like Hill Top, Anjuna, Baga, Palolem, Agonda and all other spots that humans could party in are filled with celebrations.
The best part, of course, is the night of New Year when the whole party state stops their thumping Bass and Trance filled music just to count down with the clock to strike the midnight 12. Right at 12, the festivities reach the sky with the fireworks, Champaign's and Music booming in the air with the wooing crowd jumping to every beat.
Feast of Saint Francis Xavier
This renowned festival in Goa is carried out to honour the death of Saint Xavier, popularly known as 'Goencho Saib' (Lord of Goa) by locals. He was a tremendous Catholic missionary born in 1507 and came to India with the Portuguese Viceroy of Goa in 1543. His primary task was to preach the religion of Christianity and the Gospel of Jesus to the people of Goa, Spice Islands, Japan and China among other Asian countries. He died on 2nd December 1552, in the Sancian island, about 10 kilometres from the mainland of China.
The mortal remains of the saint were placed in a silver casket in the Church of Bom Jesus (Basílica de Bom Jesus). However, one hand was cut off from the body- pieces of which were distributed to various parts of the world under the supervision of the Pope. Until 1994, Saint Xavier's body would be brought out every ten years on the anniversary of his death.
The corpse would be kept in a glass case with the feet exposed. People from all over India and the world would visit the church to worship and catch a glimpse of the saint. After 1994, the body has not been brought for public display since the condition of the corpse had deteriorated significantly.
Three Kings Feast
One of the most popular festivals of Goa is the Three Kings Feast. Organized and enjoyed by Christians and non-Christians alike, this festival is celebrated in the village of Verem in North Goa and Cansaulim, Chandor in South Goa. This feast is dedicated to The Lady of Mount- Virgin Mother Mary with infant Jesus in her lap, who is believed to be the protector of people and is worshipped as the Goddess of fertility. The celebrations take place for nine days and are held in the century-old chapel of Nossa Senhora dos Remidos or Our Lady of Cures.
Grape Escapade
Known for the crazy celebrations, Goa hosts Grape Escapade - The Biggest Wine Festival in the country every year in Panjim. The Annual Grape Escapade witnesses wine connoisseurs from all around the world rushing in to savour the delectable flavours of wine and grapes. This fun-filled festival of Goa is not only famous for its wine but also the cultural extravaganza, gathering in all kinds of tourists.
Culinary delights, lots of music, fashion shows, dance and more at the fest are bound to make the visitors happier. The traditional grape stomping, an exclusive wine tasting session and selection of The Grape Escapade Queen are some of the main attractions of the festival. The Festival is organised around the month of April for 4 to 5 days in Panjim.
Sao Joao Festival
Sao Joao Is one of the most prominent festivals of the Catholic community. Held at the beginning of the monsoon season, this feast honours Saint John the Baptist, the firebrand prophet who baptised Jesus in the River Jordan. Like all other festivals in Goa, this festival is also a fun-filled and colourful experience. However, it is celebrated with more pomp and energy in the villages of North Goa.
Legend
As per the Christian scripture, when Mother Mary broke the news of expecting Jesus to her sister Elizabeth, St. John The Baptist leapt in his mother's (Elizabeth) womb, who was also pregnant. Since then, this festival is also celebrated as the Festival of Fertility. The well, into which the youth jump is considered to be a representation of the womb while the leap signifies joy and happiness in Christ's birth.
Shigmo
Shigmo or Shishirotsava is a significant festival of the Hindu community in the state of Goa. Sigmo is a Konkani word derived from the Prakrit word Suggimaho and the Sanskrit word Sugrishmaka. This is a spring festival celebrated around March every year. However, since the dates are connected to the Hindu lunar calendar, its dates vary according to the Gregorian calendar.
This festival has two variations: Dhakto Shigmo and Vhadlo Shigmo. Dhakto or small Shigmo concerns the farmers, the labour class and rural people. Vhado or big Shigmo is celebrated on a much larger scale by people of every class and profession.
How To Reach Goa
Goa is accessible by air
The Dabolim Airport lies just 29 kilometres from the state's capital, Panjim. It is well connected by daily flights from Chennai, Mumbai, New Delhi, Hyderabad, Cochin and Bangalore. The airport caters to scheduled domestic and international air services. Goa has scheduled international connections to Doha, Dubai, Muscat, Sharjah and Kuwait in the Middle East by airlines like Air Arabia, Air India, GoAir, Indigo, Oman Air, SpiceJet and Qatar Airways…
By road
There are a number of public as well as private bus operators in Goa, which offer options for intra-city and inter-city conveyance. KSRTC, MSRTC and KTC are some of the Government undertakings that operate from Panaji, Madgaon and Vasco Da Gama. Goa enjoys daily bus service from important cities like Mumbai and Pune.
By rail
The two major railheads in Goa are Madgaon and Thivim, which are well connected by trains from all over the country.
Climate of Goa
Goa features a tropical monsoon climate under the Köppen climate classification. Goa, being in the tropical zone and near the Arabian Sea, has a hot and humid climate for most of the year you can take our Goa trip package and explore the top attraction of Goa.
The state's three seasons are: Southwest monsoon period (June – September), post-monsoon period (October – January) and fair weather period (February – May).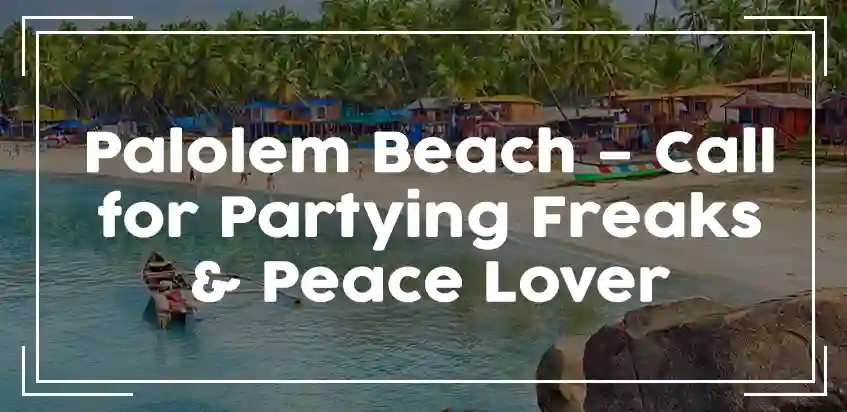 Palolem beach is one of the most beautiful beaches of Goa, which is often visited by foreigners from...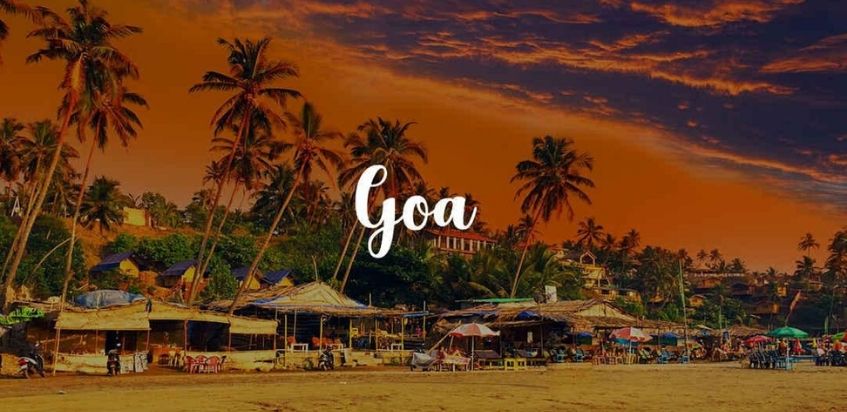 Goa is an Indian state lying on the southwestern coast of India, within the region known as the Konk...