North East India Tour Packages
The tourists, visitors, trekkers, voyagers, and adventurers often visit North-East India with its seven sister states of Arunachal Pradesh, Assam, Manipur, Meghalaya, Mizoram, Nagaland, and Tripura, for it's undulating slopes, and the flourishing fields with luxurious green cover blended with the wide assortment, and the mysterious, intriguing greenery with picturesque landscapes, tea gardens, wild outdoors, camping, mountain climbing, national parks, endangered wildlife, rare plant species, pristine waterfalls, rolling hills and deep valleys. Though it is least explored, it's still the most arguably awesome and beautiful destination of the Indian subcontinent.
Top Rated North East Tour Package
| North East India Tour Packages | No. of Days | Attractions | Booking Link |
| --- | --- | --- | --- |
| Peaceful Sikkim Tour Package | 7 Nights/8 Days | Kalimpong. Yuksom, Temi, Gangtok | |
| Splendor Mountains North East Tour Package | 3 Nights/4 Days | Gangtok | |
| Lost Kingdom North East Tour Package | 4 Nights/5 Days | Gangtok, Pelling | |
The unmatched beauty of Northeast India cannot be expressed so simply in words. It is an experience that beckons the hearts of all travelers. Northeast India is pretty much forgotten when people list down their vacation destinations. However, this part of India is the most gorgeous place to visit at least once in your lifetime.
When travelers talk about Northeast India, they usually mention the 'Seven Sisters' which represent the 7 states of Northeast India. These states include Arunachal Pradesh, Meghalaya, Manipur, Nagaland, Mizoram, Assam, and Tripura. All these states have their own culture and traditions which makes Northeast India a blend of diverse cultures. Many popular Northeast holiday packages are meant for you to experience these cultures.
Northeast India is also quite unexplored as far as tourism is concerned. Although hundreds of tourists visit popular destinations every year, a large portion of Northeast India is not developed for tourism. In a way, that is quite a good thing. Because of the low profile, the culture of Northeast India has remained untouched and has managed to stay authentic.
Nature is at its best when it comes to the scenic beauty of Northeast India. The lush green valleys, majestic mountains, and sparkling rivers bring a sense of connectedness for the nature lovers who visit here. It is quite interesting to witness the traditional ceremonies and festivals.
Best Destinations For Your Northeast India Holiday Packages
There are many great places to discover on your vacation to Northeast India. However, we have compiled a list of the 9 best places for you to explore on your vacation to Northeast India. We have chosen these 9 places to suit the needs of almost all kinds of tourists.
This list will have something for everyone and it is going to be a pretty balanced list of destinations. This list will not include some extreme adventure or completely offbeat destinations. Because these destinations deserve a list of their own. This list will particularly focus on regular travelers, small groups, families, and honeymoon couples. That's about it. So, let's start with our first destination.
1. Shillong
Elephant Falls in Shillong (image source: Wikimedia Commons)
Shillong is located in the state of Meghalaya in northeast India. Shillong is blessed with some of the best sights that nature has to offer. Be it the snow-covered mountains, pleasant weather, or beautiful valleys, Shillong has everything. It is also one of the most visited places that are included in all the popular northeast tour packages.
Shillong is a great destination to choose if you are traveling to Northeast India for the first time. It is one of the best destinations to spend your summer vacation because of various adventure activities, sightseeing options, and photography. This hill station has many amazing places to taste the local cuisine along with shops selling the local art and souvenirs.
If you are traveling with your friends and family, you will have plenty of tourist activities you can engage in. Waterfalls, caves, lakes, mountain peaks, trekking, and adventure sports activities are the most popular things you can do as a tourist. You can easily reach Shillong city from the Shillong airport. The city is also well-connected with all other cities in Northeast India.
Best time to visit: March till June
Tourist attractions: Khasi Hills, Umiam Lake, Elephant Falls, Mawjymbuin Caves, and Adventure sports.
2. Sikkim
View of the mountains, Sikkim (image source: Wikimedia Commons)
The beauty of Sikkim itself is enough to entice you and make your vacation a memorable one. Sikkim shares its borders with Tibet, Bhutan, and Nepal. Sikkim is a favorite destination among the tourists who visit regularly every year. You can easily reach Sikkim by traveling 85 kilometers from the Gangtok airport. Sikkim is very well connected with all the other major cities.
Sikkim is a favorite destination for trekking and mountaineering enthusiasts. Also, tourists visit the historical monasteries and temples. The bio-diverse landscape of Sikkim is great for photography and nature walks. Some of the most popular destinations to witness nature's beauty are plenty to be found in Sikkim.
Couples on their honeymoon, families, small groups, and adventure travelers can all find enough to enjoy in Sikkim. There are many Northeast India tour packages with prices that are suited for all kinds of tourists. Sikkim is a great place to start your journey to Northeast India.
Best time to visit: March till May and October till December.
Tourist attractions: Sangachoeling Monastery, Darap Village, Sewaro Rock Garden, Singshore Bridge, Rimbi Waterfall, Pemayangtse Monastery, Kanchenjunga National park, Mountaineering, Trekking.
3. Majuli in Assam
Majuli island, Assam (image source: Wikimedia Commons)
Majuli is a river island in the state of Assam which is popularly called a 'Cradle of Assamese Civilization'. If you have booked your northeast package for a vacation, then it would be a great idea to experience the authentic culture and heritage of Assam in Majuli. Majuli is somewhat an offbeat destination but still quite reachable. It is away from the crowds of tourists.
Majuli is located at a distance of 370 kilometers from the Guwahati airport. If you are looking for a tranquil place to enjoy a relaxing time, then Majuli is the best destination to include in your northeast states tour package. Majuli offers some great views of the Brahmaputra river which will be great for your Instagram travel post.
Best time to visit: October till March
Tourist attractions: Kamalabari Satra, Dakhinpat Satra, Tengapania, and sightseeing.
4. Tawang
Tawang Monastery, Arunachal Pradesh (image source: Wikimedia Commons)
Tawang is one of the best summer destinations in India. Tawang is situated among the majestic eastern Himalayan range in the state of Arunachal Pradesh. Tawang is a spiritual destination for many people of the Buddhist faith. You can find the artful monasteries along with the unique blend of Buddhist and the local tribal culture.
Tawang is quite popular among tourists but still, it is not considered a crowded tourist destination. Tawang Monastery is the largest Buddhist monastery in India and it is one of the main attractions among the tourists. Situated at the height of around 10,000 feet, the view from the monastery is simply breathtaking.
Tawang is an essential addition to all the popular northeast holiday tour packages offered by travel agencies. It is a great honeymoon destination with great sightseeing and relaxing opportunities.
Best time to visit: April till October
Tourist attractions: Tawang Monastery, Brahmadung Nunnery, Craft Center, Ptso and Sanster Lakes, and Khinmey monastery.
5. Tripura
Ujjayanta Palace, Tripura (image source: Wikimedia Commons)
After Shimla in Himachal Pradesh, Tripura is another destination which is lovingly called as 'Queen of hills'. Tripura is a great destination in Northeast India which is worth mentioning. Tripura does not get enough attention but it is a must-visit destination on your journey to Northeast India.
If you are a photographer, then you can capture some of the best scenes that nature offers for free. The sparkling rivers, panoramic views, and lush green landscape can relax you from within. Tripura is a great destination for families looking for an ideal destination. The local cuisines, art, and monuments in Tripura offer a glimpse into the lives of people who live here. You can find an ideal northeast India tour package price at any travel agency.
Best time to visit: October till February
Tourist attractions: Unakoti, Neermahal, Ujjayanta Palace, Boat riding, Trekking to Jampui Hills, and Dry fish tasting.
6. Cherrapunji
Road to Cherrapunji, Meghalaya (image source: Wikimedia Commons)
Cherrapunji is famous for being the 'wettest land in the world'. Cherrapunji is located in the state of Meghalaya and is popular because of the continuous rainfall it receives throughout the year. Despite all that, Cherrapunji is still very popular among the tourists who visit from all over the world.
You can include Cherrapunji in your existing northeast package and explore the many attractions here. One of the most popular tourist attractions in Cherrapunji is the living roots bridge. Due to the continuous rainfall, the bridge was taken over by the roots and many similar sights can be found in the area of Cherrapunji.
Best time to visit: September to March
Tourist attractions: Mawkdok Dympep Valley, Mawsmai Caves, First Presbyterian Church, Rainbow Falls, Living root bridge, and camping.
7. Mizoram
View of the mountains, Mizoram (image source: Wikimedia Commons)
For a relaxing and laid-back vacation, Mizoram has the best setting for you. The calm and serene nature overwhelms you with its tranquility. For people visiting Mizoram from the major cities, find Mizoram to be a heavenly place to be in. It is a great way to detox yourself from the pollution of city life.
There are many northeast India tour packages from Delhi and all other major cities. If you are someone who wants to recharge their mind and body, then Mizoram is the best place for you. Situated at the altitude of 11,000 feet, Mizoram is popularly called a 'Land of Highlanders'. Currently, many projects are going on to make Mizoram a major tourist destination.
As a couple on your honeymoon, or a person who wants quietude, Mizoram is a great place to choose for your vacation. There are many trekking trails you can enjoy as a trekker also, you can find many photo-worthy scenes to your liking.
Best time to visit: October to March
Tourist attractions: Tam Dil Lake, Solomon's Temple, Aizawl, Lengteng Wildlife Sanctuary, mountain biking, trekking, local handicrafts, and food.
8. Nagaland
Terraced fields, Nagaland (image source: Wikimedia Commons)
Nagaland is famous for its rich festivals, unique tribal culture, and natural beauty. It is one of the most interesting destinations to visit if you are exploring Northeast India. People of Nagaland have their lives built around nature. The tourism of Nagaland is being developed with sustainability in mind.
Nagaland is still quite unexplored as far as tourism is concerned. However, if you wish to visit Nagaland then Mon is one of the best destinations to visit. The lives of people living here are quite simple. The natural landscape and the views are great inspirations for your creativity. You can stay in cottages made from natural materials with all the modern amenities.
One of the most popular experiences that are included in the popular northeast states tour packages is the visit to Konak Tribe. You can get a glimpse into the tribal way of living and their cultural practices by visiting many popular festivals such as the Hornbill festival which is held every year.
Best time to visit: October till May
Tourist attractions: Kohima, Dzukou Valley, Khonoma Green village, Shilloi Lake, trekking, visit Konak Tribe.
9. Manipur
View from Nungba, Manipur (image source: Wikimedia Commons)
Manipur is considered the pride of the Northeast. It is among the top destinations to visit in Northeast India. If you wish to relax in the lap of nature and away from all the crowded tourist areas, then Manipur is a great place to escape to.
One of the best experiences you can have in Manipur is to engage with local cultural sports and festivals. The local handicrafts and art is another unique thing that is offered by this amazing place. You can enjoy and explore Manipur as a group of friends or as a family. It is also a great honeymoon destination that is unique compared to other places in India. For sightseeing and cultural events, Imphal is the best city to visit. It is the capital city of Manipur and it has many tourist attractions that are worth visiting.
Best time to visit: October till March.
Tourist attractions: Manipur Zoological Gardens, Kangla Fort, Ningol Chakouba Festival, and sightseeing.
Highlights
Northeast India is a region much less popular when compared to Himachal Pradesh and Uttarakhand. However, the beauty of the Northeast is equal if not better compared to the rest of the hill stations in India. You can easily find northeast states tour packages from your travel agent. It is easier than ever to customize your travel package online.
India is incredible! Isn't itThe diversity of India is its strength, and especially it is depicted...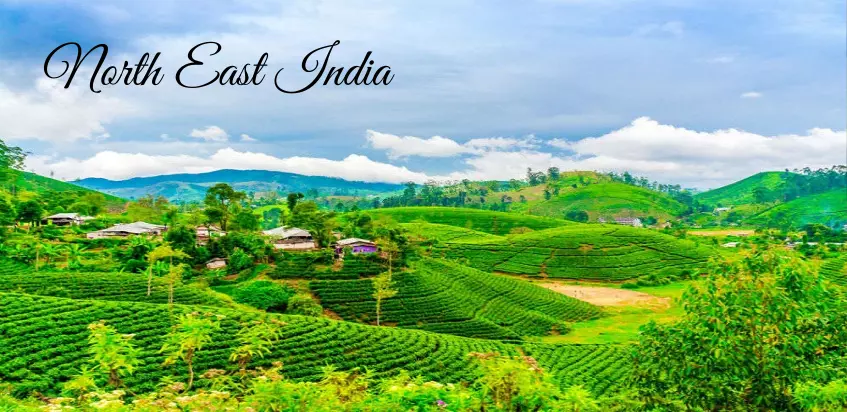 Northeast India is the easternmost region of India representing both a geographic and political-admi...